247 Electrician - Electrical Services Your Local Electricians

https://www.247electrician.info/

247 Electrical Services Your Local Emergency Electricians.
We have a team of professional fully qualified electricians available around the clock 24/7 in all the following areas.
Electricians in Coventry
Electricians in Walsall
Electricians in Worcester
Electricians in Birmingham
Electricians in Wolverhampton
Electricians in Leicester
Electricians in Shrewsbury
Electricians in Redditch
Electricians in Solihull
Electricians in Stratford Upon Avon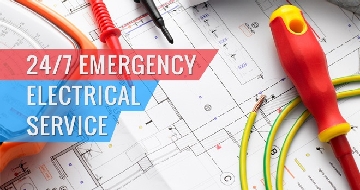 A deeper dive into 247electrician.info
Common questions asked about www.247electrician.info
1. What services do your electricians provide?
Our electricians provide a wide range of services, including electrical repairs for light switches and sockets, installation of new cookers, and emergency electrical repairs. They are highly experienced and City & Guilds Qualified, ensuring a reliable and professional service. Whether you need assistance with power loss, light fitting and repairs, or tripping electrics, our electricians are ready to help.

2. How quickly can your electricians respond to an emergency?
We understand the urgency of electrical emergencies, which is why our electricians aim to be at your property within one hour of your call. Our fast response time ensures that any electrical issues are addressed promptly and efficiently, minimizing any inconvenience or potential hazards.

3. Are your electricians available 24/7?
Yes, our electricians are available 24 hours a day, 7 days a week. We understand that electrical issues can occur at any time, and our team is ready to provide emergency electrical repairs whenever you need them. Whether it's during the day, at night, or even on weekends and holidays, you can rely on our electricians to be there for you.

4. Do your electricians cover my local area?
Yes, our electrical services cover a wide range of areas, including Bedworth, Bewdley, Bilston, Burton on Trent, Brierley Hill, Cannock, Coventry, Droitwich Spa, Dudley, Evesham, Halesowen, Hinckley, Leamington Spa, Malvern, Nuneaton, Oldbury, Pershore, Redditch, Rugby, Sandwell, Stafford, Stratford upon Avon, Solihull, Stourport on Severn, Sutton Coldfield, Tamworth, Telford, Tipton, Walsall, Warwick, West Bromwich, and Worcester. No matter where you are located in the UK, our local electricians are ready to assist you.

5. Are your electricians qualified and experienced?
Yes, all our electricians are City & Guilds Qualified and highly experienced in their field. They have the necessary skills and knowledge to handle any electrical job or emergency with professionalism and expertise. You can trust our electricians to provide a reliable and high-quality service, ensuring the safety and functionality of your electrical systems.
Some reasons to choose 247electrician.info
Fast, Reliable Fix for Electrical Repairs
Our local electricians are on call to provide fast and reliable fixes for electrical repairs in your home. Whether it's fixing light switches or sockets, or installing a new cooker, our experienced electricians can get the job done efficiently.
City & Guilds Qualified Electricians
All our electricians are City & Guilds qualified, ensuring that they have the necessary skills and knowledge to handle any electrical job or emergency. You can trust that our electricians are highly trained professionals who can provide quality service.
24 Hour Emergency Electrical Repairs
We offer 24 hour emergency electrical repairs in your local area. Our electricians are available at any time to attend to any kind of electrical emergency you may have. You can rely on us to provide a fast response and resolve your electrical issues promptly.
Highly Experienced Electricians
All our staff are highly experienced electricians with years of industry experience. They have the expertise to handle any electrical work, from simple repairs to complex installations. You can have peace of mind knowing that your electrical needs are in capable hands.
One Hour Response Time
When you call us, our electricians can be at your property within one hour. We understand the urgency of electrical issues and strive to provide a quick response. You can count on us to be there when you need us, ensuring minimal disruption to your daily routine.