Gold Listings' Content
All content automatically fetched by our spider
Categories
New listings
England (7216)
Northern Ireland (35)
Scotland (335)
Wales (159)
Number of listings removed from our directory since 1st November 2019 =
1304
Chester: Exploring Britain's Roman Roots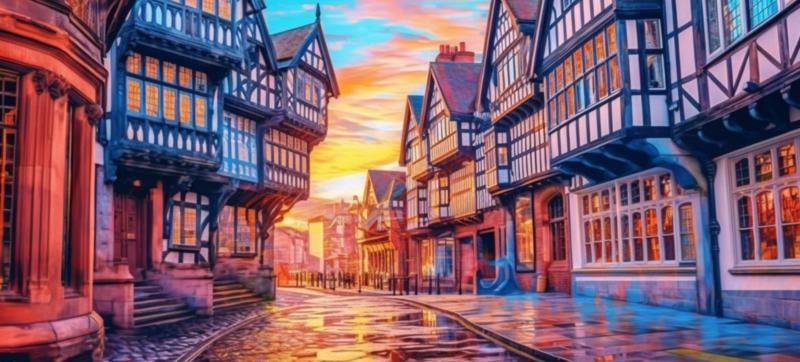 A Stroll through the Time-Worn Streets
You've done it; you've found yourself in Chester. This picturesque medieval city, nestled along the banks of the River Dee, is a treasure trove of history, culture, and delightful diversions. What to do first? A walk along the fortified city walls is highly recommended. These walls are the oldest and most complete in the UK, encircling the entire city centre in a loving, protective embrace. As you stroll along the ancient sandstone, you can imagine the Roman centurions stationed here, gazing out over the countryside, wondering when their next shipment of olives and wine would arrive from Rome. In that spirit, you too can gaze out over the city and contemplate your next meal.
The World Through Roman Eyes
To immerse yourself in Chester's Roman roots, a visit to the Grosvenor Museum is essential. Located on Grosvenor Street, it houses a splendid collection of Roman artefacts, including a reconstructed Roman townhouse, complete with its own hypercaust – a remarkably efficient underfloor heating system that had the purpose of warming both your toes and your sense of superiority. The museum also contains the largest collection of Roman tombstones in Britain, a veritable graveyard smash! As you peruse the inscriptions on the marble, you can ponder the lives of the men and women who once called Chester home, from gladiators to merchants, and everything in between.
Ruins of the Gods
Within Chester's historic city centre, you will find the remnants of the largest Roman amphitheatre in Britain. Built in the 1st century AD, this colossal structure once entertained over 8,000 eager spectators with a variety of spectacles, from gladiatorial games to religious festivals. Now, the crumbling stone walls and grassy embankments provide a serene setting for a picnic or a mid-afternoon nap – we all know how exhausting exploring history can be. Just a stone's throw from the amphitheatre lies the ruins of a Roman bathhouse, where the inhabitants of Chester would have gathered to gossip, bathe, and get a little handsy with each other in the communal pools. The remains of this steamy social hub can be found within the Roman Gardens, a peaceful oasis filled with fragrant flowers, lush greenery, and even more Roman artefacts. The gardens also provide a delightful place to take an afternoon constitutional, a time-honoured British tradition.
Shopping, Roman Style
While the Romans may be long gone, their penchant for shopping lives on in Chester's historic city centre. Elegant Victorian and Tudor-style buildings line the cobbled streets, housing a delightful array of shops, boutiques, and eateries. The Rows, a unique two-tiered shopping gallery dating back to the 13th century, is the perfect place to indulge your inner shopaholic. Be sure to visit the Roman-themed storefronts, where you can purchase authentic Roman oil lamps, jewellery, and even replica gladiator helmets – perfect for spicing up your next dinner party.
A Feast for the Gods
After a long day of exploring, you'll no doubt have worked up an appetite worthy of a Roman banquet. Chester has a plethora of wonderful dining options, ranging from cosy, traditional pubs to modern eateries offering delicious fusion cuisine. For a truly authentic experience, head to The Roman Vault, a subterranean restaurant located beneath the city walls. Here, you can dine on traditional Roman dishes, such as dormouse stuffed with minced pork and pine nuts, while sipping on a goblet of spiced wine. As you feast beneath the flickering torchlight, you can imagine yourself dining with the gods in the heart of ancient Rome.
When in Chester...
As you wander through this ancient city, be sure to keep an eye out for the numerous Roman-themed events and attractions that pepper the calendar. From gladiator re-enactments to Roman-themed walking tours, there's always something happening to transport you back to the days of togas and sandals. And if you're feeling particularly adventurous, why not enrol in a Roman cookery class, where you can learn to whip up a batch of garum, a pungent fish sauce that was the ketchup of the Roman world? Just be warned – it's an acquired taste. With its rich Roman heritage and enchanting atmosphere, Chester is the perfect destination for a weekend getaway or a longer sojourn into the past. So grab your toga, strap on your sandals, and prepare to explore the Roman roots of this magnificent city.