Gold Members' Content

Articles by Gold members

Products by Gold members

YouTube videos by Gold members

Latest tweets by Gold members

3rd party reviews of Gold members
Categories
New listings
England (6212)
Northern Ireland (29)
Scotland (241)
Wales (146)
b2bwize.com articles
What Is More Important When Starting a Business: Passion or Discipline?

An Essential Guide to Starting a Lip Fillers Business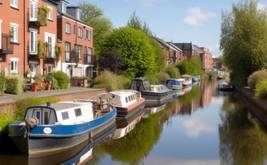 Should You Relocate Your Office?

How Do I See What Keywords Competitors Are Using?

Do Your Business Premises Require Security Guards?

Number of listings removed from our directory since 1st November 2019 =
383
Despite a Positive Outlook, These Challenges Plague the HDD Industry Today
submitted on 20 December 2019

The majority of underground utility pipe installation projects today use directional drilling techniques because, in all aspects, they are the best solution. Ever since the HDD market reached a certain level of maturity, both veteran and novice contractors have acknowledged the benefits of directional drilling over conventional open-trenching methods. Underground infrastructure work for urban locations has relied heavily on HDD because of its many benefits. Virtually any project which involves below-ground pipe installation now hires directional drilling companies to provide the workforce and technology to get the job done.

The market remains healthy and looks forward to more stability
Although the market share for various segments of the HDD industry shifts from time to time, the demand is not likely to cease. The growth of the fibre optic industry alone is enough to fuel more demand for directional drilling services.

Water and gas installation also remains stable in its demand for underground pipework. Whether contractors require rigs for new installations, repairs, or maintenance, directional drilling is the go-to technique for reliability, safety, and convenience.

The demand from sewerage contractors is also increasing. While still relatively small, the market share from this segment is projected to climb in the coming years. Indeed the outlook is bright for the industry as a whole. There seems to be a reason why utility providers should not embrace HDD as the only viable method for underground pipe installation.

What are some of the challenges that impact the industry?
Despite the mainly positive market growth, there are still some challenges that continue to pose difficulties for contractors. One example is waste disposal. Although HDD generally produces less waste than an open-pit method, there are strict government regulations that govern how and where HDD companies can dispose of all waste generated during an installation project.

Another problem is the issue of underpriced bids. These contractors price their work too low and end up damaging the reputation of the industry by not being able to meet quality standards or, worse, being unable to complete the job.

Although not a concern directly related to the performance of drilling companies, outsourcing companies that locate underground obstructions has become quite unreliable. Some of these location companies do not have the right experience and skills. As a result, HDD companies now conduct in-house location and detection.

The continuing challenge with workforce
Drillers continue to have concerns with the workforce as it becomes more difficult to find qualified personnel. Holding on to experienced personnel is another issue altogether. Similar to any construction-related business, drilling companies struggle with sourcing skilled and well-trained workers for their projects.

Indeed, the industry-wide problem of hiring and retaining employees seems to continue adding strain to HDD contractors. Nevertheless, the growing market share of HDD could potentially attract a continuous stream of new talent in the years to come.

There is no doubt that directional drilling will dominate as the preferred underground pipe installation solution. With its strengths and relatively few disadvantages, there is a strong case for why HDD will continue to revolutionise the utility industry around the world.